This next destination in the search,.. is BEEF BALL NOODLES at Jalan Peel.
What IS Beef Ball Noodles? First of all, it is NOT Ngau Lam (Beef Noodles, Beef-Stock Noodles), as many dismiss it to be. Ngau Lam (NL) has a thick, beef-stock soup, BBN has a clear, refreshing soup. NL contains all the spare parts of a cow, BBN has only 2 forms of beef - ground beef and balls. NL served as a soup-noodle mix with a variety of noodles. BBN is exclusively a fine-noodle (think wanton mee) variety and comes as soup or dry-braised.
Ok, nuff about the technicalities. The FOOD.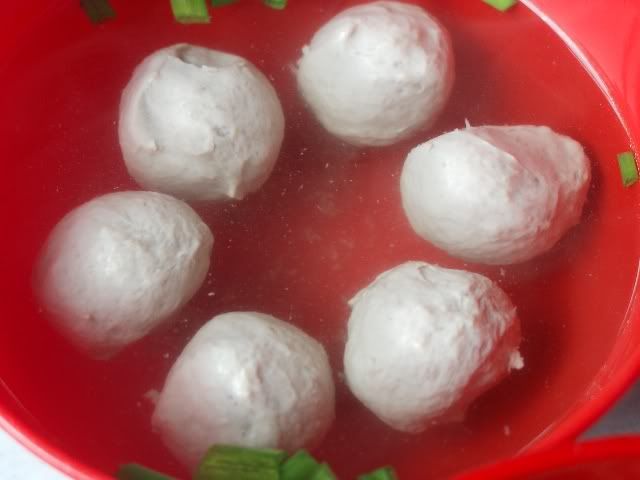 The first and most important thing about BBN is not, the beef ball but the
brisket
that tops the noodles. The beef must be ground finely to a granular but still chewy consistency and blend the aromas of meat and soy sauce inseparably. Then comes the
balls
, which must be bouncy and firm to the bite, releasing again the bovine flavors that intermingle with its lightly peppered soup.
Third is the
noodle
that carries it all. Any noodle eater (which is every Malaysian) knows the importance of a not overcooking his noodle as to lose its turgor, nor to serve it straight up without a quick cool rinse as to make it sticky-starchy. Finally, comes the lime-chilli sauce that has an abrupt bite and sharp tang with a slow after-burn.
Get it? No? Ok... go eat it.
Beef Ball Noodles is a KL city thing. There are only, known to me, three authentic sources that meet all the criteria above. One on Jalan Silang, the second, on Jalan Alor, and the third which I'm featuring here, Jalan Peel. Jalan Silang's quality has deteriorated considerably over the years. Jalan Alor has maintained its pristine standards, but is a bit difficult to get to through the Bukit Bintang madness.The most accessible and still satisfying dishing of BBN will be Jalan Peel.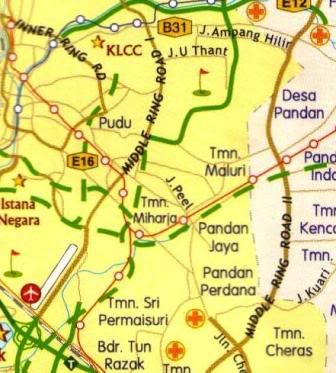 Getting there
:
Drive along Jln Peel towards Jln Cheras. Find it directly opposite the Carrefour shopping complex, sitting inconspicuously amid other hawkers on a corner lot (corner of Peel & Shelley).